* mehr

Sponsors
Events
Results 2007
Results 2006
Gallery
Bikes
* Links

Rocketbikes
Bikeboard
DH Rangers
DFR
Cast-Away
So I´m super happy right now...My cast is of since wendsday, but still can´t ride though...It just has to heal over the next few weeks...well i hope
So I did a lot of guitarplaying while "I´m Broken" and yeah wrode a couple of songs, I actually learnd some new cool riffs!!
Well, I hope I can ride soon,my hand is getting better and better each day!
So on cheers
A little video from Winter Dirtjumping!
SEASON OVER BROKEN HAND!
SO, yeah, my season is over...
One week after the race in St. M. I wasn´t realy confident for the Race in Vösendorfs, well you know, it was a pretty bad day, everything went pretty good, jumped everything easy and smoth!But i didn´t realy feel good the whole day!
And than while gatepractice it happend..after 8th pedalstroke i clipped out with my back food, while pulling the pedal up...ther was so much force behind it that i went over the bars hard!was smashin´ onto the concrete!
Resulst: Cut into the Muscle on my left shoulder and broken right hand, 2 months not riding....
maybe i can go for the world cup in schladming but I dunno....
So cheers bros
So after months of nothing here is everything:



First Cup Race in Koppl was great, a lot of good riders and a lot of fast ones...race was cool, went into the semi an ended up in 8th...


2 days later i took my stuff and went to italy where i rode the nightsprint race in riva del garda, track was....naahh...., felt pretty good though, i did a good first heat but in quaters i was out...


the i went to maribor for the world cup...track was diffrent to last years one and they built a realy big big double..was so fun to jump that one...short as it is I didn´t reach the finals...so after party back home...

next race was winterberg in germany...track was fast as hell, got a flat tire in training on highspeed(front) went over the bars hard!so i was a bit scared in quali...bad quali result and yeah sucks...out in quaters again


ame as willingen wehre the track was f*** up as I´ve never seen before....short words..out in quater


and than I went o st. magarethen for the nationals...i was confident realy confident...I wanted to have that title this year...but dreams can turn into nightmare...out in quater...i was realy disapointed at this point ´cause I realy could have done it....I hope I´m under 11th place because I need those UCI Points.
The second race was the cup race and again out in quaters...still waiting to get into final this year...


so that´s all for now...next saturday is vösendorf...home track...but there ´ll be few bmx riding mountainbikers so that´s gonna be hard!...


All for now I´m out for training Cheeeeeerrssss
First Season Race
Hey, yesterday was my first race this year in bratislava.
I went ther with my ridingbuddies and it was a lot of fun there.
Gates went good, had a couple of good snaps in training...I love the gate there...
Race:
Qualifing was okay, overjumped the first double a bit and messed up the straight but qualified on 7th.
First heat was easy....got a pretty good snap and managed to get on second position....Semi was okay...I got a realy good snap and head to head on the first straight but since I was on the left side and the first corner was a righthander I landed on 4th...getting into the rythem section and we all came closer together, the third guy T-boned the second and i tried to get under them....I was on 3rd but with a lot of speed so i tried to get the guy in front of me, but he cut my line and i got on the breaks...well in semi it was over for me but it was still a cool race and the new bike is damn fast......will be a good season(...there was no small final)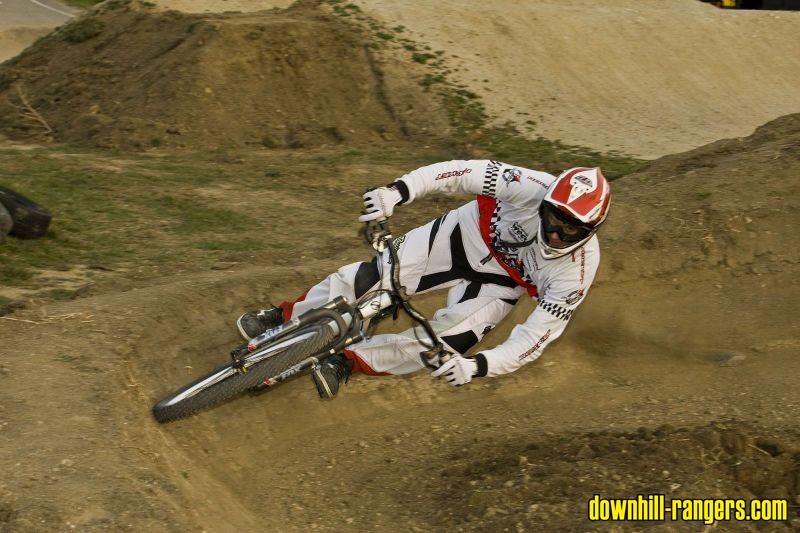 Training, what else....
Winter sucks allready....Just do alot of training in the hall, neraly every weekend....it´s awesome...will be a freakin´good training for summer...
also my new frame is in house, very proud to ahve it, it´s damn cool, bit smaler than last years and veray cool to ride, hope my fork will be back from service soon!
so long cheers
[eine Seite weiter]